Some info about BIM DATA ASSET MANAGEMENT FOR INTEGRATED DIGITAL DELIVERY (3D PRODUCT DATA MODELING)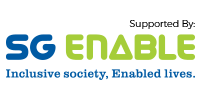 This programme is supported by SG Enable to propose training initiatives to achieve the following:
Skills training and upgrading of persons with disabilities, particularly in enhancing employment and employability.
Building up the capabilities and confidence of employers in the hiring and integration of persons with disabilities.
This grant is to defray the costs of training persons with disabilities, and is part of the Open Door Programme by the Workforce Singapore (WSG) and the Ministry of Social and Family Development (MSF), to help persons with disabilities seek employment or upgrade their skills.
To address current and complex challenges faced by persons with disabilities and caregivers over the course of their lives, this programme is implemented with the outcome to increase the employability and employment rate of persons with disabilities, upgrade their capabilities and promote inclusiveness and integration of persons with disabilities in the workforce.